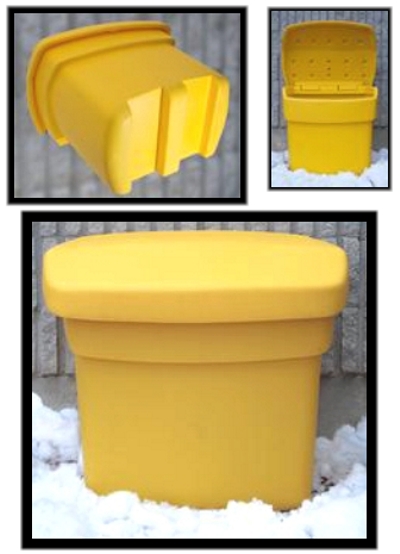 If your business or property is accessible to the public, then the Salt Box is for you.
The Salt Box Program was developed for businesses, public buildings, residential complexes, etc. who need to salt a larger volume of sidewalks and parking lots with frequency.
Our bulk rate guarantees the lowest price for salt and keeps your inventory in check.
Our bulk salt is conveniently delivered right to your door either weekly or upon demand so it is there when you need it - no more lifting and moving heavy bags!
Our coarse rock salt is less processed so it works harder and lasts longer than traditional sidewalk salt providing more hours of sure footed safety on your property.
Our Salt Box and Scoop ensure a ready supply of free flowing, easy to scoop road and sidewalk salt. Our Salt Box is weather proof and contains 350 lb of salt delivered to your door.
We provide the Salt Box and scoop to you at the start of the winter season for a deposit, along with 350 pounds of rock salt at 25% less than traditional retail.
We deliver additional salt to you as required.
At the end of the winter season your deposit is fully returned upon our collection of the bin and scoop as well as a credit for any remaining pounds of salt.
You can't lose! We'll ensure you have a ready supply of salt delivered when and where you need it.
The Salt Box is safe and easy, protecting
you, your clients and your business!
Call 902-439-4591 for information, pricing, or booking.